The Wilderness Of Eden show - Sheffield Boardwalk 04/02/98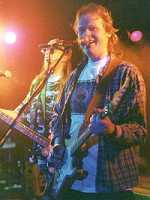 Plus support Parallel or 90 Degrees & special guests Derek Nash (sax & flute), Nick Robinson (guitar), Gordon Walker (violin) & Fredrik Satsuma (vocals). A rare live appearance of most of the guests featured on the Wilderness of Eden CD.
Thanks to everyone who turned up & made a great night of it, especially Parallel or 90 Degrees, who had a very stressful time (see their homepage via Links'n'Contacts/ Other sites to try...), but still turned in a great performance. Also thanks to our guests - it was taking a bit of a chance putting together a six piece band who'd never played together before, but it worked! It could be one of the last Turtle gigs for a while, as we're in the thick of organising the Haze 20th anniversary reunion. Check out the Sound 'n' Vision page for the pix.
Classic Rock On
CRS are holding their Spring Prog Fest at the Oakwood Centre, Moorgate Rd. Rotherham. Mr So & So, Gargantua & Max Hunt play on Friday 29th & The Enid, Cast, Primitive Instinct & Damian Wilson play on Saturday 30th. There'll also be acoustic sets on Saturday afternoon from Eden & World Turtle. Tickets are £9 (Friday) £10 (Saturday) on the door or £1 off to members who buy in advance. To join CRS send £22 to Martin Hudson at 47 Brecks Lane, Brecks, Rotherham S65 3JQ. J R Turner has promised his World Turtle interview in next month's Wondrous Stories. We wait with bated breath...

Green Turtles
31st May is not only the Haze 20th anniversary, but also the Sheffield Greenpeace May Fest & sponsored walk. There's bands playing all afternoon in Endcliffe Park: so far confirmed are Elfin, Yoni & World Turtle (acoustic). We'll be rather busy(!) but have promised a short spot to open the proceedings at 11am. We'll also be joined by Paul Chisnell for a few songs - a sort of mini-Haze reunion!
Call Gemma on 0114 278 0526 for more info.
Whitchurch Update
We're now playing on Sunday 26th doing an acoustic session in the afternoon and supporting John Wetton in the evening. We're hoping to have Derek Nash join us for the evening set. Keith Bell, Damian Wilson, Martin Orford & ReGenesis are playing on Friday, Shufti, Chris Newman, Groundhogs & Climax Blues Band are playing Saturday and Gravity & Martin Orford support on Sunday. Last year was a great event, so it should be well worth checking out. Tickets are £7 (Friday), £9 each (Saturday & Sunday) or £22 for the weekend from Riverside Records, 1 Riverside, London St, Whitchurch, Hants, RG28 7LW. Admission by advance tickets only, camping included. Check out their new website or email them for more details.

Holland
I'll be nipping over to Holland for a weekend in late April/early May, to visit Andre Steijns at Paperlate radio for an interview, & hopefully meet up with a few other people, with a view to promoting the Haze 20th anniversary and sorting out some gigs for later in the year.
There'll probably not be much happening on the news page for the next few months (famous last words), as most of the action will be on the 20th anniversary page.