Biography
Formed in 1978 by Chris and Paul McMahon, Haze were one of the founders of the neo-progressive revival of the early 1980s. The band went through a number of line-up changes until drummer Paul Chisnell joined in 1983, completing the classic line-up which was to remain unaltered until the band's demise in 1988.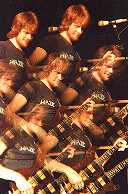 The band set up their own label, Gabadon Records, and in 1984 released their first vinyl album, 'C'est La Vie', through Pinnacle distribution. It is, however, for their incessant gigging schedule in the U.K. that they will be most fondly remembered. For five years the band toured the length and breadth of Britain in an old ambulance, playing over 500 shows with a lack of pretentiousness and sense of humour that delighted progressive and rock audiences alike. In 1987 the band released their second and last vinyl album 'Stoat & Bottle', and toured Holland, their first and only dates outside the U.K.
By the end of 1987, the band were becoming disillusioned with their lack of further success, and plagued by financial problems caused by a serious motor accident in late1986, which wrote off the bands' ambulance. Musical differences were also beginning to show, with the band's eclecticism taking them beyond the traditionally accepted boundaries of progressive rock.
Haze disbanded after a farewell concert in Sheffield on 29th May 1988, exactly ten years after their formation. The McMahon brothers then formed World Turtle, a four-piece band including Pendragon drummer Fudge Smith, but the band was short lived and broke up when Paul left due to disillusionment with the music business in 1989. Chris then formed Von Daniken with guitarist Warren Jacques to promote his 'Truth About Flying Saucers' album. They released 'New Worlds', a cassette album of "progressive new age music" in 1990.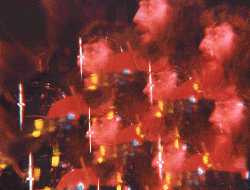 Two years later the McMahon brothers were back in business with a new band, which, after a few line-up and name changes, slimmed down to a duo and once again became World Turtle. "I was terrified of the idea of going our as a duo at first," says Paul, "but now I wish we had done it years ago". "It has been fun working with other musicians," according to Chris, "but this is the real thing - undiluted".
In 1993, the memory of Haze was revived by American label Kinesis Discs, who released an 18 track CD of remixed and remastered Haze tracks. As a result of the interest caused by this release, Cyclops Records signed World Turtle in February 1994 and in July of 94 the group released a new CD 'Haze', comprising tracks that would have formed the third Haze album, plus the best of recent World Turtle, and a couple of re-recorded Haze classics.
World Turtle's latest CD, 'Wilderness Of Eden', is their most experimental and innovative work to date and includes guest appearances from drummer Sam Carr, sax & flautist Derek Nash and string players Gordon Walker & Linda Wilson amongst others. While not quite a 'concept album', many of the songs are linked by a common theme, best summed up in verse two of the closing track 'One Day':- 'I've tried hard but I can't understand the reason, please try to make it clear. Why we carry on a search for other Edens, when everything we need is here'.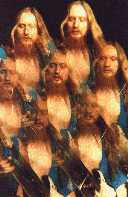 Musically the album draws on Haze's progressive and heavy rock roots, as well as the funk-metal and pop-rock explored by World Turtle in the early 90s. Combined with classical and folk touches from the string section, the jazz tones of Derek's sax, and an 'ambient soundscape' from guitar innovator Nick Robinson (aka Winston N'Gobola), the album is a varied musical tour de force, held together by the powerful rock drumming of Sam Carr, solid bass & keyboards of Chris McMahon and melodic guitar and Midge Ure-esque vocals of brother Paul.
Although part of the 1980s "progressive" revival, Haze were always much more than just another Yes/Genesis clone, moving with ease across the spectrum from rock to funk, pop to progressive in their own distinctive style. World Turtle have continued in this tradition, bringing modern sounds and influences, as well as powerful, intelligent lyrics to the brothers' undoubted musical and songwriting skills.
On 31st May 1998 Haze reunited for a 20th anniversary concert in Sheffield. The show was a great success and was recorded for a limited edition double live CD on Cyclops Records. Since then the band have toured Europe three times and became a regular fixture at the Whitchurch Music Festival, but have spend most of their time playing as 3/5ths of Treebeard, an acoustic band very much in demand on the Beer Festival circuit. Treebeard released 2 CDs, "Heavy Wood" in 2002 and "Reel Ale" in 2010.
Chris also played with American heavy rockers Strongheart (1998-2007), rock covers band CRF (2002-2006) who briefly metamorphoses into an alternative World Turtle when Paul McMahon joined, folk-rock group Silverwheel (2004-2009) and singer guitarist Paul Pearson (2004-date).
In 2006 Haze teamed up with sisters Catrin & Ceri Ashton to form The Outlandish Knights, a ceilidh dance band playing original folk tunes to hard rock backing. They have played Sidmouth Folk Festival 2 years running, but are primarily in demand as a wedding & party band.
In 2008 the band celebrated their 30th anniversary with shows at the Sheffield Boardwalk & London Peel, which were recorded and released on Cyclops Records on a double CD. At these shows the band premiered a number of new songs & featured flautist Ceri Ashton from Treebeard & The Outlandish Knights. In 2010 the band toured Italy again and released a live DVD "in that branch of the lake" featuring their whole 2 hour plus show from Lofficina Della Music in Lecco.
In March 2013 the band released their first studio album in 26 years "The Last Battle". This was Paul Chisnell last work with the band, he has now retired due to tinnitus and has been replaced by Danny McMahon on drums. At Christmas the band reissued their first release "The Cellar Tapes" as a 30th anniversary CD, remixed & including previously unreleased tracks and online bonus tracks, and in 2015 took part in the '2weeks 2make it' video competition with a video for the new song 'Faces on the Wall'.
Since 2013 the band have played Summer's End festival, toured Italy, played Danfest, HRH prog fest & Cambridge Rock festival, as well as playing shows in Sheffield, Southamplton, Rotherham & St Helens.
Haze are now planning two major shows to celebrate their 40th anniversary, Sheffield Greystones on Saturday 23rd June and Southampton Talking Heads on Sunday 24th June. The shows will be recorded for CD and DVD release, and will feature new material as well as a selection of favourites and rarities from the last 40 years.
.

---
| | | | | |
| --- | --- | --- | --- | --- |
| | | | | |
| | | News | Gigs | Merchandise |
---