Christmas Show News
Hang on to your (silly) hats, the good news for those of you who missed the 20th anniversary show, is that we had such a good time, we decided to do it again! The date is Sunday 20th December 1998, the venue is again The Boardwalk, Snig Hill, Sheffield, admission is £4 tickets, £5 on the door. Tickets are available now from us, cheques to Haze, please enclose SAE.
If you ever saw the 80s Haze Christmas shows, you'll know what to expect, if you didn't, now's your chance! Rog Patterson is threatening to make an appearance, but, to be honest, we don't believe him. He's tour managing in Poland the night before, so it seems a bit of a long shot for him to make Sheffield by 8pm.
We're currently rehearsing a load of different material from the 20th anniversary show, the only problem being cutting it down to 21/2 hours. Expect the unexpected!
We're also playing an acoustic set Under The Boardwalk, Snig Hill, Sheffield on Wednesday 16th December. Admission is free & we'll be on at 8.30, with the usual jam session following on after.

---
Nib Savage reviews the 20th anniversary gig
Haze Disclaimer - Please note, Nib Savage is defined under the Fictitious Persons Act 1992 as a possibly mythical character under Section 48(1)(d) and as such, neither any member of Haze nor their families, pets or alter egos can be held responsible for anything said by the said Nib Savage.
Just when we all thought it was safe to venture out at night without fear of caterwauling hippies assaulting our shell like ears with a hideous cacophony of dissonant screechings and lost chords which no sane individual would dream of even looking for, the unthinkable happens and the three individuals most wanted for crimes against every dress code known to man decide to get together and offend our sensibilities with another evening of drunken debauchery and wilful melodicide.
It was with some trepidation, not a little resignation and a soupcon of desperation that I agreed to attend this reunion of the infamous Haze. I arrived early, ordered a half of Grogglemonkeys Old Indefinable, and took up my accustomed Haze gig watching position, i.e. near the door for a quick getaway.
My first impression was that the miscreants had improved mightily and had in fact become almost musical over the ten year break, but on closer inspection, I discovered that I was in the wrong bar and was, in fact, listening to the jukebox. Having rectified my error, I made my way into the correct venue, convinced the doorperson that it could only have been a bizarre oversight which omitted my name from the guest list, and stood horrified listening to a sound the like of which I has thought never to hear again. The Hazeys were onstage making their accustomed racket just as if they had never given us a merciful ten year break and there was an audience present encouraging these crapulous coprolites by having the temerity to applaud their feeble efforts. I put up with the monstrous aural assault for almost two minutes before I was compelled to leave in the name of decency and good taste, weeping inside for the end of ten years of relative peace and quiet.
On the way home, I trod in a pile of regurgitated lentil vindaloo. Overall, that just about sums up the evening.

---
Haze On Air
On Sunday 13th December, we'll be heading for Bradford and BCB Radio to do an interview and live acoustic set for Tez Burke on his Sunday evening rock show. The show goes out at 5pm on 107MHz FM and 104MHz FM on the Yorkshire Cable, and can be picked up in West Yorkshire and the hillier parts of north Sheffield.
BCB also goes out in RealAudio on the internet, go to the BCB Website and click on the RealAudio button.

Later in the evening I'll be down Under The Boardwalk, to play a short set with violin/mandolinist Gordon Walker on my new 12-string left-handed Tanglewood electro-acoustic guitar. Whether or not I've learned to play it by them!

---
What We're Playing - a few hints
OK, I don't want to give too much away. The set list is under 24 hour armed guard by highly trained killer rodents, but I can safely reveal it will be a game of two halves, with the relative lull of an acoustic set at half time.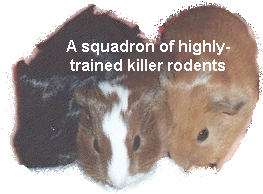 We're moving a bit away from the "greatest hits"(sic) set that was the 20th anniversary & including songs that were missed out in May. So there'll be one very old song from 'C'est La Vie', plus quite a few from 'Stoat & Bottle' that we didn't do last time. Paul will be picking up the bass guitar again, and we have a radical reworking of 'Fallen Leaves' to try out on you.
We'll also be trying our hand at a couple of World Turtle songs, again radical revision has been in order to make them work with a 3-piece line-up. The acoustic set has been extended, Paul will even be getting the Mandolin out - in fact, I might even get a twang on it!
And, of course, there'll be loads of medleys, Christmas songs/carols & sundry absurd behaviour (though I'm not sure I believe Tim's plan to come onstage as a Polar Bear during the obligatory snowball fight!)

CRS Awards Night - what we won!
The Classic Rock Society held their annual awards night on Saturday 5th December, with Arena headlining.
Predictably, they scooped most of the awards, but we had a showing with me getting 9th best keyboards player and 17th best bass player, Paul getting 15th best vocalist, and World Turtle getting 10th best gig and 12th best band.
Must try harder next time, huh?