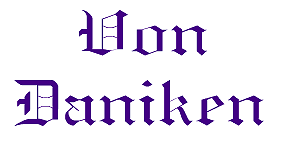 ---
Biography
Von Daniken was formed in 1989 to fill the vacuum left by the dissolution of 80s cult band Haze in May 1988. Featuring ex-Haze keyboards player Chris McMahon and ex-Haze sound engineer Warren Jacques, the band have created a unique sound by combining the ancient and modern; blending classical influences and 70s rock with ambient and new age sounds to create music as startling and improbable as their namesakes theories.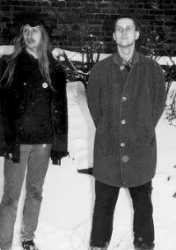 The live show is a subtle blend of pre-programmed and improvised material, drawn from Chris McMahon's 'Truth About Flying Saucers', as well as early Haze, and of course their debut album 'New Worlds' (released in 1990 on Gabadon Records), aided and obscured by slide projections and copious quantities of smoke.
As their debut album 'New Worlds' shows, Von Daniken are a band of contrasts, from the pastoral opening of 'Suspended Animation', through the classical and then house influences of 'Cataclysm Imminent', to the aggressive and despairing 'Closedown' on side one, contrasting with the minimalist, almost Floydian tone of 'New Worlds', which gently unfolds throughout side two to its serene conclusion.
In 1994 the band remastered 'New Worlds' for CD release, and recorded an extra track 'Electrick Fish Music', based around material from the 'Flying Saucers' tape. The CD was released in October 1995 on Cyclops Records to rave reviews from the progressive and electronic underground fanzines.
We have finally finished work on the new CD 'Transient', which will be released on Gabadon Records (Cat No GABCD 11) with distribution via GFT/Cyclops on 1st July 1999. To order a copy go to
Mainstream it ain't, but if it's something challenging and offbeat you're looking for - Von Daniken's your man!
---
| | | | | |
| --- | --- | --- | --- | --- |
| | | | | |
| | | News | Gigs | Merchandise |
---