If you have written a review of the band, or fancy having a go, send it to us & we'll stick it in here
---
| | | | | |
| --- | --- | --- | --- | --- |
| | | | | |
| | | News | Gigs | Merchandise |
---
CD REVIEWS
Von Daniken - Transient - Gabadon Records - GABCD 011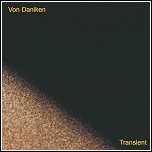 Only three and a half years after the last VD album, Chris and Warren are back. Of course they might rightfully complain that they have been busy (Chris is in at least four other bands Haze, World Turtle, Strongheart & Satsuma!) but it is nice to see them back. Chris provides the keyboards while Warren does the rest.

It has been quite a while since I played the last VD album, but I think that I will be returning to this one far more frequently. There is a depth to it that was was missing from the last. In fact, I commented to Chris that the guitars in places are much heavier than I ever thought that I would hear from VD. That is one of the best things about this album, it just has so much going for it in terms of style. While it can really rock, they also go to the other extreme which is laid back and almost ambient in style.

The title song is the closing piece, divided into three sections, and managed to clock in at nearly eighteen minutes in length. There is space and thought, something to relax into (and just as you do a guitar lead comes searing out of nowhere). It may not be as dynamic or hard hitting or even as commercial as some of the other bands Chris is linked to but this is an album for the proghead to savour, different from so much of the 'neo-prog' around. More details can be found at http://chrisgabadon.demonweb.co.uk/vondaniken/ or email Warren at warren@material.demon.co.uk
Kev Rowland - from Feedback #54


---

Haze - 20th anniversary show - Cyclops Records - CYCLUB005

One of the Cyclops labels releases that you can only get through GFT or the band themselves and also a gig that many of you reading this will have been at. By all accounts it was a really enjoyable night with the McMahon boys letting their hair down and Paul Chisnell taking the drum seat again. When it comes to looking back over the past thirty years of rock music, much will be made of all those ever-so-well known bands while little will be said about Haze. To be fair plenty should be said about Haze/World Turtle and brothers, Paul & Chris McMahon, as they have continued to produce the music against all adversity. Their music has always been of excellent quality, even if Paul's vocals are a little questionable sometimes. He balances that with some excellent guitar routines while Chris excels in his role as prog keyboards player/programmer, vocalist & the man with the funny hat! The live recording quality is fine and all you, the fan, have to do is go dig some mushrooms! Worth getting hold of for their great 'Seven Stones' anthem! Prog at it's best! For a two man show - which is what it generally is - the band known as World Turtle are serious musicians having fun. With Paul Chisnell along
Martin Hudson


---

World Turtle - Wilderness Of Eden - Cyclops Records - CYCL056

Another seventy-two minutes of exemplary song writing from the McMahon brothers and the first not to mention Haze in quite some time. If you're extremely lucky you can also get a limited edition cassette album of out-takes from the album sessions as well. Sadly, proceedings open with the lackluster formula rock of 'Let Go', although it's apparent that the playing is getting harder and more powerful and the production is finally meeting the songs requirements. The influence of the plethora of funk-rock bands is clear throughout as is the direction of the band. In a more forgiving world the mention of AOR wouldn't come as quite such an insult but I can think of little better that actually describes the music on show here. The best news here, though, is the excellent drumming contributions from Sam Carr (ex-Haze, World Turtle and nearly famous Apes, Pigs & Spacemen) who appears on five songs here and brightens the drum machine driven pieces. Apart from all that he also contributed his parts in a single afternoon which just goes to show that speed can be invigorating. Paul's vocals have matured considerably and suit the material more. The usual range of fare is on offer (acoustic slowies like 'Wave', plumply strumming along, meeting more guitar rock histrionics like 'Wolf') but with the priceless addition of a crew of select musicians, ranging from backing vocals to the full orchestra bit (a single cello(sic) played by their cousin layered endlessly to create the sound) to violin, sax and flute which all adds to the interest and means that the album has a much greater variety and complexity than much of the band's old work. A few nice instrumental interludes really add to the sense of flow to the album and, in all, I think it's the best the McMahon brothers have ever produced.
Duncan Harris


---
World Turtle - Wilderness Of Eden - Cyclops Records - CYCL056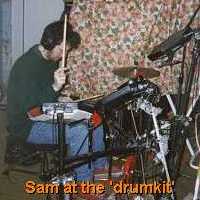 Following on from the Haze re-releases and the World Turtle/Haze CD this is probably the first time World Turtle CD (at least that's what it says in the sleeve notes). If you were a Haze fan or new to the band then this release will not be a disappointment. 14 tracks with 72 minutes of music in which the band prove they are masters of writing short, very catchy pop and prog. Aided by a plethora of friends and relations on drums, guitars, sax, flutes and vocals, the CD has an added dimension that is sometimes missing during their live shows but this is understandable as the McMahon brothers perform live as a 2 piece. Much of the material has been performed live so it is well known and World Turtle are certainly a user friendly band which makes them very accessible. Paul has one of the better voices on the UK prog circuit and this release will certainly extend their reputation.
Terry Craven Wondrous Stories #69


---
World Turtle - Wilderness Of Eden Cyclops - CYCL 056


There can be few as dedicated to the cause of progressive rock as Chris and Paul McMahon. The hippie and the straight love their music, and when on stage are a joy to behold. However, one thing I have said in the past is that I wished that they would have a drummer (as they did in the olden days, when they used the moniker Haze), instead of relying on programming. Not only have they used a guest drummer for this CD but have also brought in other musicians to add touches here and there. The result is a class album, and while it won't reach the same amount of people as IQ there really is no reason for that. The class just oozes out of every note. Many will always view them as a prog act when in truth they are far more than 'just' that. This is a song based outfit, with good melodies and vocals.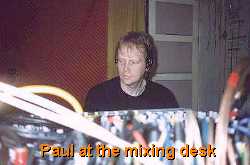 Some of the songs, such as 'Kickback' sound so layered and all consuming that it is hard to believe that it hasn't cost hundreds of thousands of pounds and years of work to produce music of this quality and majesty. This is a legal natural high. When music is as good as this then it is only possible to let slip your grip on reality and go with the flow. Listen to it and defy yourself to smile and have a good time. Whatever you do, don't join in on the chorus to 'Let Go', it's not right to enjoy music as much as this. There is something here for everyone (there is even an old Haze number 'Rip Van Winkle' which has been greatly revamped), and at times I found myself thinking of Level 42 as they funk and soul along. Not all of it is energetic, there are mellow times on here as well, but it is the many pieces of the puzzle that join together to make one of the best damned albums you are likely to hear this or any other year. The McMahon brothers have been making concert goers happy for many a moon. If you are one of those who have missed out on the show then grab yourself a piece of the action. All those who I have spoken to about this album agree on one thing - IT'S BRILLIANT! Write to World Turtle at 25 Fir St Sheffield S6 3TG or visit their website at http://www.cheesypeas.demon.co.uk/turtle. There is also a limited edition free outtakes cassette if you contact them direct. You owe it to your ears.
Kev Rowland in Feedback


---
World Turtle - Wilderness of Eden - Cyclops Records CYCL 056)


In some ways the first proper, not-Haze-at-all, World Turtle album, this new collection has been eagerly awaited by the band's followers for some time. Several tracks have been knocking around in the live set for a while - so, how does it sound on disc?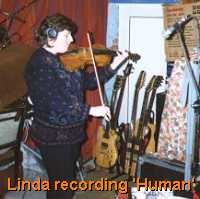 First off is 'Let Go', which has also been opening recent gigs. Starting in the familiarly funky World Turtle vein, it asserts itself as one of their better tracks in this style, also benefiting from a thicker sound than earlier recordings - a production advance which shines throughout the album. Just when you think you've got the measure of the track, however, it takes off into unexpectedly proggy territory for a Floyd-y closing section which evolves into some subtle but effective bass/keyboard interplay. This bodes well for the rest of the album!
'Heroes' is reminiscent of 'Ship Of Fools' in terms of overall feel but, once more there is a broader palette being employed: richer textures, finer attention to detail. Touches of jazz expression. Also - may as well get it over with here as anywhere - a 'live' drummer makes all the difference.
What can I say about the title track? A highlight of the set - both musically and lyrically - for the past couple of years, and a superb rendition herein. Once more, it is the arrangement that impresses so much, with a range of keyboard sounds adding almost narrative expression, whilst ambient notes and sounds suspend the song in a fragile web which perfectly articulates the delicate balance expressed in the lyrics. 'The Last Unicorn' provides a poignant multitracked coda.
Although not the most narrow-minded progfiend you'll ever meet, I'm one of the most rabid. So I can't really say why 'Kickback' has lodged in that odd little part of the brain from whence tune pop up in unguarded moments, but it's the one that I find myself humming most often. Probably because it has one of the most perfectly hummable choruses I've head in a long time!
'Queen's Gambit' lets Chris play piano for a bit - nice to get this in the foreground for a change. 'Stalemate' drifts along in a beautiful shimmer of melancholy, aided by some beautiful violin from Gordon Walker and particularly nice weaving together of vocal lines.
Haze! There, I said it! Sorry, but it just had to slip out. You see, 'Vertigo' is Progressive Rock (with capital letters), and bloody good Progressive Rock at that. Keyboards that go widdly, guitars that go whoo! Bits that change, bits where it stops! Great stuff, but the real trick is that it doesn't sound dated. Old-timers may remember a Haze track called 'The Load' ... 'Vertigo' is 'The Load' for the 90s - edgy, uncomfortable.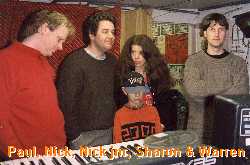 Now here's a good idea: call yourselves a duo, then get millions of people to play on your album. Then, while they're at it, one of them can write & play a track you don't actually appear on! So, you can nip out for a cuppa and, when you come back, your album's got another track on it! Neat, eh? In this case it's Nick Robinson's guitarscape 'The Long Sleep', & very good it is too.
'Rip Van Winkle' seems to have been around for years, and wouldn't have been out of place on 'Haze' (the album, that is). It's pleasant enough, but against the more recent material it seems a bit predictable. Not keen on the sax, but could be worse.
'Wolf' opens with some fine atmospheric romantic organ dynamics before 'wake up, it's time to die!' - Turtle turns metal, with some dandruff-dislodging, tight-trouser music of a decidedly nasty complexion. I may be lynched for saying that the middle section reminds me of Marillion's 'Forgotten Sons' (yup! editor), but it did.
In total contrast, 'Wave', with it's massed acoustic guitars, mandolin and violin can best be described as 'lush'. This is, simply, lovely. If this were a perfect world, this would be the theme of a major movie & the resulting single would top the charts for months. But, as the song itself says, the world isn't such a neat place.

Now the hard bit. 'Human' is alright. A sort of piano singer/songwriter thing with big orchestral backing. If you like that sort of thing, it may be a belter, but it doesn't really move me.
When I said that the sax on 'Rip Van Winkle' could have been worse, what I meant was that it could have been that cheesy, 80s American TV show stuff... as appears on the closing 'One Day'. Some people love it, but I just can't listen to that sort of thing. As for the song itself...er...well, in general it's a bit George Michael, I'm afraid. Some lovely guitar, a soaring chorus (with 'Stone House' potential), but a limp verse and that irritating sax.
And there it is. I'd love to say 'a brilliant album from start to finish', but I can't. However, with still over an hour of superb material, 'Wilderness Of Eden' still rates as one of the best albums I've heard in 1997. Niggles with the arrangements on the last two tracks aside, this shows a more adventurous approach to the quality songwriting displayed on their last album, with sensitive embellishments from guest musicians (apart from that sax!) making this a much more satisfying whole.
Oz Hardwick

---
World Turtle - Wilderness of Eden - Cyclops Records CYCL 056)


World Turtle celebrated fifteen years in the music business with the release of Wilderness Of Eden. The core of the band are Chris and Paul McMahon. They first appeared on the prog scene as Haze in the early 1980s releasing their debut single Dig Them Mushrooms in 1981. Their first albums, The Cellar Tapes and C'est La Vie, have long been deleted, although some of the tracks are available on the compilation album In The End: 1978-1988 on Kinesis Records and the re-issued C'est La Vie/The Ember on Cyclops Records. Since then there have been a number of fan-club only releases, several of them live recordings. In 1988, Haze finally split up after the death of their ambulance-cum-tour bus Gabadon (made famous in the track of the same name!) in a motor accident. The brothers then formed the four-piece band World Turtle which included Fudge Smith of Pendragon. This however proved unfruitful and after releasing the cassette-only Groove Taboo in 1989, they split up within the year. Chris then released a solo album under the name Von Daniken before teaming up with former Haze engineer Warren Jacques to evolve the band into an ambient electro-prog band. They released New Worlds originally on cassette in 1980, although it was re-released on CD by Cyclops in 1995. In 1992, the brothers decided to re-form World Turtle as a two-piece, and released the album Haze (getting confused yet?) in 1993 on Cyclops. Wilderness Of Eden is their 1997 release, the third album under the World Turtle name, and it draws on influences from all the previous McMahon compositions.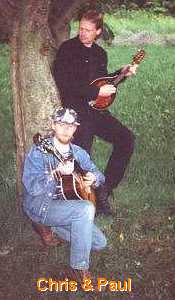 Chris and Paul are at the centre of most of what is going on. Chris provides bass and keyboards while Paul supplies the guitar and vocals. They augment the sound with a plethora of special guests. They have reformed the Stone House Choir for backing vocals on One Day with the addition of Martin "Frederick Satsuma" Sommers and Mick and Mole from Izon Paradise. Altogether they have recorded sixty voices singing five harmony parts on 8-tracks giving a fairly large sound. Other guests are sax and flautist Derek Nash, Linda Wilson who is first viola in the Hull Youth Symphony Orchestra and contributed to a couple of tracks, as has violinist Gordon Walker. Finally they have the "League of Crappy Guitarists" comprising Chris and Paul, Warren Jacques, Nick Robinson and Martin Sommers all playing acoustic guitars on Wave, which they recorded in the back garden one Saturday.

Let Go is a typical up-beat McMahon track. Right from the start the guys let loose with a powerful guitar and vocal riff which doesn't let go - as you would expect from a track with this title. This tells the world that fifteen years have not blunted the guys' energy. In saying that the has a very subtle ending with some fluid rippling guitars almost at odds with the rest of the track.
Heroes is more mellow song with a catchy infectious beat. But along with that, you have Paul's strong vocals and the occasional raw guitar riff which rips in to give a balance. And the lyrics are pretty good too. This is part of the concept of the album - although this is in no way a concept album. This is now more better expressed in the final lyric: "Two thousand years and still we have to be led like children. What are we waiting for? Because I don't think we've got two thousand more to make it better." This idea is carried on in the subsequent two tracks, the title track Wilderness Of Eden and The Last Unicorn. Wilderness opens with some excellent keyboard and guitar work before Paul's vocals come in. A very subtle track with more great lyrics: "Dear Old Noah sold the ark and used the cash to build a theme park", and a really catchy chorus. This is followed by the instrumental Last Unicorn with Paul's keyboards and guitars melding together to form a melancholy epitaph. These three tracks from what I will call my favourite section of the album.
Kickback totally chases the mood. This is build on an unstable foundation of synthesizers and powered by a solid drum beat. It also has some great sax playing from Derek; very under-stated clever in the mix. The result is a kind of funky rock song. Trust me, it works!
Queen's Gambit sees Chris at the piano for a simple, yet effective solo piece. It only lasts just over two minutes, but acts nicely as an interlude in the album. This segues straight into the mellow love song Stalemate. Here Paul's vocals drip with hurt and pain as he lashes out: "And now we are suffering in silence, trapped and stifled in our shells"
Vertigo is a flash-back to early Haze in the vocal and guitars, drawing on a Von Daniken-like sequencer trip which all meld to create a very distinctive track. At nine minutes, this is by far the longest track on the album, and it shifts dramatically from mood to mood and from style to style. The Long Sleep is another short instrumental which acts as the introduction to Rip Van Winkle. The Long Sleep is more from the Von Daniken ambient new-age side of World Turtle with a mixture of guitars and keyboards - all of which is played by Nick. Possible the first Haze-VD-WT track not to include a McMahon brother!
Rip Van Winkle first appeared on Groove Taboo, and makes a welcome return here. It shows the guys at their most funky, with Chris' bass riff creating an infectious underlying support over which we have sax, guitars and great vocals. And yet the lyrics are back to the eco-Wilderness concept: "This ain't no lullaby, this ain't no sweet dream scenario." Somewhere in the song there are sampled guinea pigs, frogs and birds - I'll need to listen harder next time!
Wolf is World Turtle at their heaviest. A great start too, just as the guitars and drums kick in you hear the sampled voice saying "Wake up...time to die!". I think that sets the scene for the rest of the track! Truly this would have the most cynical rocker head-banging away. To be honest I have never heard the guys sound this raucous - and I went to see Haze live many times over the years.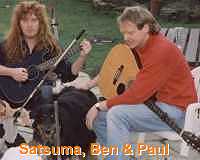 Wave turns the whole album on its head again. This is almost something you would expect The Waterboys' Mike Scott to have written. Great violin-work swirls around Paul's vocals. The League's guitar sound - along with Chris on mandolin gives a superbly full sound which comes over brilliantly through my new amplifier. And the chorus: "If life is a state of emotion and death is just a chance to relax; if light is just a particle waving, the least we can do is wave back." Who else would right lyrics like that?
Human takes the sound even further away from what you expect from a prog album. We have what sounds like a full orchestra supporting Chris' piano work while Paul's vocals sound as mellow as mellow can be. This is a great song, but it is nothing compared with the majesty of One Day. The sax and vocals hints at another mellow track, but nothing prepares you for the full choral sounds the guys have created. This is an immense track which sound like it must have cost millions - although somehow you know the McMahon brothers have achieved it in a two-bit studio with friends they paid in black-pudding and curried whippet.
The McMahon brothers stand like a rock in the midst of the progressive music scene. They stand solid and up-right while all around them chases success and glory. They have never been hauled down band-wagon routes, never been manipulated by promises of success or record label carrots. Sadly as a result, success have eluded them with consummate ease. And yet fifteen years on they still sound as fresh and original as they did when I saw them playing smoky little pub back rooms in Nottingham in 1982.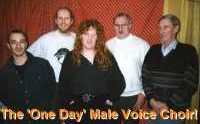 If you are not familiar with these guys then try and get a listen to this album - or indeed any of their releases; although this is their best to date. There is no McMahon sound; they do not fit any particular mould. Indeed describing them as progressive music is pretty untrue; they draw on wider musical resources than that. And they achieve a sound which is both varied and innovative. I cannot define it - there is so much contained in this album - and the result is a complex and varied album which you should come back to again and again. At least I hope you will; although history is against this. Their releases are constantly over-looked and I, for one, feel this is a travesty. I urge you to listen to this; you will enjoy it - and you will be joining a very select band of McMahon fans.
Wilderness Of Eden (CYCL 056) is released by Cyclops Records. It is available through their mail order arm GFT priced at £11-00 and in the UK that includes postage. You can contact GFT at 33a Tolworth Park Road, Tolworth, Surrey KT6 7RL, UK; tel: +44 (0)181-339-9965; fax +44 (0)181-399-0070; e-mail: postmaster@gft-cyclops.co.uk. Also check out the Cyclops website at http://www.gft-cyclops.co.uk. You can contact World Turtle at 25 Fir Street, Sheffield S6 3TG, England or check out their website at http://www.cheesypeas.demon.co.uk/turtle
Frank Blades from Alternate View.
THE online fanzine for the UK & European progressive rock scene. (Check out the 'Cellar Tapes' retro-review too!)

---
Haze - C'est La Vie - Cyclops Records - CYCL 042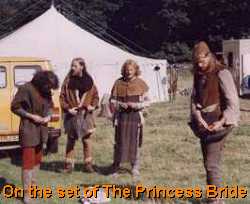 Three cheers and general hats-in-the-air type behaviour for this CD issue of Haze's 1984 album and 1985 EP - a release which will delight and amaze...Delight the old timers and perhaps amaze those who only think they know what Haze were all about. To start with the latter category: I've lost count of number of times I've seen criticism of World Turtle for being 'too poppy' and 'not progressive enough'. Leaving aside any band's right to play exactly what they feel like, and also ignoring the question 'what exactly is progressive anyway?', tracks like 'Roger's Revenge' and 'The Ceiling's Coming Down' clearly show that the band have always had really strong pop sensibilities. Indeed, the pop elements, along with the humour, were the traits which made Haze rather more fun than many of their po-faced contemporaries. Maybe the problem is rooted in the 'In The End' compilation - unquestionably a belter of an album, but one which highlighted the more traditionally progressive elements of the band, thereby setting up a rather misleading contrast between old Haze and new World Turtle. Whatever, listeners getting the full picture for the first time may well have to swallow a few prejudices before they enjoy the rich diversity on offer here. As for the rest of us - even if you already own vinyl copies, this disc comes highly recommended. The re-mastering has given a new depth to the sound, particularly on 'Mirage' and 'The Load', which have touches I'd never even noticed before. One of the best albums (and singles) of the '80's 'prog revival', this newly-polished, multi-faceted jewel of a release still challenges narrow definitions of the genre itself.
Oz Hardwick (first printed in Wondrous Stories)


---
Haze - C'est La Vie - Cyclops Records - CYCL 042


What can you say about Haze? Certainly one of the hardest working bands ever to get lost on the A1(M), they are still seen as being a very important influence on many of today's bands. Of course, Paul and Chris McMahon are still treading the boards as World Turtle, but back in these days they had a drummer (Paul Chisnell) and their never ending tours (often with a young (!) Mr Rog Patterson in attendance), have become the stuff of legend. 'C'est La Vie' was their first album, originally released on 07/04/84. It has been combined here with the four songs from 'The Ember' twelve inch single released on 21/10/85. Side one and side two of the album have been reversed, and all of the songs have been remixed, as much as the original recordings would allow. Copious historical notes, track information and photos make this a great package for both the newcomer and the enthusiast who will probably have the original albums.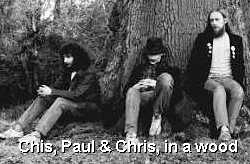 Progressive trios are notable by their rarity. In this case Paul Chisnell drummed, and sang some leads, Paul M provided lead vocals and guitar while Chris played bass and keyboards (yes, sometimes at the same time), with all three providing harmony vocals. Go on, then. Tell them about the music. Well, this is extremely well sung and played prog. Rock trios are either crap or brilliant, there is rarely any middle ground. Haze provide complex well thought out music that is also very melodic. Yes, weird time signatures abound ('Load' is in 4/4, 6/8 and 5/4) as well as changes in moods and tempos. 'The Ember' (which is still part of the World Turtle live set) has some great guitar work and soaring vocals. 'Mirage' is a riff-based rocker while 'For Whom' is a delicate searching ballad. Favourite is the belting rocker 'Gabadon', absolutely fantastic, with great riffing from Paul. Cyclops will be making the other Haze albums available when they have been remixed. I can't wait. Reissues just don't come any better than this. Buy a piece of UK Progressive Rock history today. You owe it to yourself.
Kev Rowland (first printed in Feedback)


---
Von Daniken - New Worlds - Cyclops Records - CYCL 028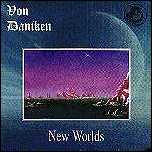 In a sense I've reviewed this three-part 70 minute epic before when, in pretty different form it has to be admitted, two parts of it appeared on Von Daniken's debut cassette album. I liked it then and I like it now. Too much keyboard farting about but Chris McMahon always knew about melody and capturing peoples interest and the more guitar driven pieces are steamingly good. I can even cope with 'Closedown' and its Haze-meets-Peter Hammill lyrics. Primarily this is instrumental new age, keyboard music (and for once that isn't a criticism) but it takes such sharp turns through a delightful sense of humour, funk moments, Pink Floyd pastiche, genuine guitar driven rock songs and much more that it's a devil to review but pretty much a delight to hear. What's more it's all surprisingly neo-progressive in its end results. Very nice.
Duncan Harris (first printed in Angry Fanzine(rip))


---
Von Daniken New Worlds - Cyclops Records CYCL 028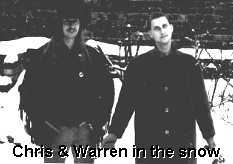 A welcome CD issue for this Haze/World Turtle off-shoot, featuring three lengthy works from Chris McMahon (keyboards, bass, kitchen sink, etc) and Warren Jacques (guitar, vocals), along with occasional additional guitar from Paul McMahon. Straight in, and I can't enthuse enough about the opener 'Suspended Animation', which is one of the most successful compositions I have heard in a long time, building through three movements from the rather orchestral feel of 'Ursa Minor' (I'd love to hear this given the full 'Journey To The Center Of The Earth' orchestration which it calls out for) into the Haze-y 'Closedown' (re-recorded for this issue). The problem with such a superb opening piece is, of course, how to follow it. Substantially re-worked from the original 1989 version, I'm afraid that the 'new-agey' 'Electrick Fish Music' still doesn't do much for me. Occasionally, in sections such as 'Earthlight' and 'Amphibious Aardvarks', a theme will rise to attract attention, but on the whole the piece rambles on without ever seeming to get anywhere. Altogether more satisfying is the closing title track which, whilst still occupying the same musical territory as its predecessor, maps out an almost cinematic musical journey, which leaves the listener somehow refreshed amid the final tranquility of the dawn chorus. In conclusion, although 'Electrick Fish Music' is a little insubstantial for my tastes, the album is worth a listen for the excellent 'Suspended Animation' alone (with 'New Worlds' thrown in as a bonus).
Oz Hardwick Wondrous Stories

---
World Turtle - Haze CD - Cyclops Records - CYCL 008


Haze were never just another Genesis sound-alike Eighties prog band. Their influences were always more diverse and their distinctive style was ever eclectic, incorporating strands of prog-/heavy-/funk- and even jazz-rock, often with more than one of these elements in any particular song. Live ,their musicianship and enthusiasm was extremely impressive and their gigs were some of the highlights of my student days. In recent years the rhythm section has gone and the Sheffield McMahon brothers have continued as a twosome, now under the name of World Turtle (formerly Groove Taboo). World Turtle have been gigging for about two years (though not as frenetically as Haze) and have a style which is perhaps a little more biased towards funk/pop, but which still holds enough of the Haze characteristics to be clearly a natural progression from what Chris and Paul were doing in the Eighties. Up until now their recorded music has never really captured the quality and feel of what they can do live;(last year's Haze CD "In The End" was basically remastering of original four track tapes). Thus the release of World Turtle "Haze" (or Haze "World Turtle" if you prefer), particularly with fourteen track and a running time of nearly seventy minutes, is a real treat. The first thing that struck me about this new release is the quality of the production. at last with a decent number of tracks to record onto, the band have been able to maximize the potential of their sound.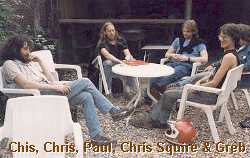 The CD comprises a mix of later (and some unreleased) Haze tracks and contemporary World Turtle songs. There is no particular chronological order and the ease with which the tracks sit together demonstrates how there has not been the dramatic change in style from later Haze to World Turtle that some may have feared. Other than the question of whether there has been a break with their previous style, people used to the usual rock set up may be wondering about the lack of a drummer. Both Paul (vocals, guitar) and Chris (keyboards, bass) handle the programming, and I can confidently state that the absence of "real" percussion in no way detracts from the music. Those who associate drum machines/programming with the repetitive garbage heard on the radio will be reassured to know that the often complex backing here has about as much in common with "techno" or "rap" as Virginia Bottomley has with NHS reality!
The CD kicks off with "The Ember" (which also appears on the Cyclops CD sampler) - a song with a powerful almost indie- rock feel to it. The album moves through the late King Crimson influenced "See Her Face", past the "Ship Of Fools" with its salsa-like rhythms and "Superstition" sounding keyboards, and on to the riffing heavy rock of the "New Dark Ages", the superb blues of "Autumn" and the epic balladry of "The Edge Of Heaven". Throughout, the sound is multi-influenced but not plagiaristic, distinctive in style but never repetitive.
When trying to describe the songs to convey an idea of them on paper I am constantly aware of the difficulty in categorizing them, in that in a song which could be said to be rocky there may be a middle eight section of swing/jazz (though it fits perfectly), while a classic blues track such as "Autumn" has some very un-blues-like keyboards. In the latter piece, Paul McMahon's guitar soloing particularly shines, while Chris' musical skills are amply demonstrated by his chunky bass on "Epitaph" and the exuberant keyboard soloing on "Another Country".
The CD is accompanied by a professionally produced booklet which includes the lyrics (generally well-constructed and thought provoking) and information about each song and the inspiration for its for its composition. These lyrics are delivered by Paul in his even better voice which I haven't a clue how to describe other than to say on occasions he reminds me of a soulful and passionate Midge Ure. The CD finishes with the "House" trilogy, which dates back to the last days of Haze. Each song deals with a different type of person, characterized by varying musical styles. The final track "Stone House" has always been a live favourite, an anthem that deserves to be turned up loud - you'll feel that you'll just have to sing along! Do listen for the guitar solo on the fade-out.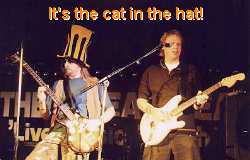 Overall the album is very satisfying and I can think of no serious criticisms - I think it at last gives a fair recorded demonstration of the quality of the music of World Turtle/Haze. It is not something that will appeal to all "progressive" fans, but if your horizons extend wider than solely Genesis-style prog, this CD is well worth investigating. Catch World Turtle live if you can and give this album a listen - I doubt you'll be disappointed, and if you're like me you'll love it!

Diarmuid Kerrin (first appeared in Wondrous Stories)


---
Haze 30th Anniversary double CD The Boardwalk 30th May 2008
The CD itself is an excellent live recording, one of the type that leaves everything in, including the banter, and is therefore, an full and accurate account of the gig rather than a watered down, edited version. The music is superb, maybe not quite as prog as the other bands around in the 80s (those that I know, anyway). There are some vague hints of Rush, especially around some of the keyboards sections, but there is also a more folky element supplied by the flute of Ceri Ashton, which also, somewhat inevitably, reminds me of Jethro Tull, especially during Train. There's an energy and confidence to the performance that belies the fact that the band rarely now performs (as Haze, anyway - the members do perform as Treebeard, an acoustic, more folk flavoured band). There is also a relaxed feel to the whole thing, evident in the slower numbers and between songs camaraderie. The audience doesn't sound huge but is definitely appreciative even if there doesn't seem to be any evidence of "whooping". Apart from Turn Around, nothing is immediately recognisable to me but, overall, it's definitely my kind of music. According to the liner notes, the song selection spans the whole thirty years, not just the Haze era. Hearing it, I can't help but feel a bit nostalgic for that 80s gig and would echo the sentiments expressed in the magazine review. Haze definitely deserved more success than they got.
Ian the Druid Blog

---
Haze 30th Anniversary double CD The Boardwalk 30th May 2008
As the title of this double live album implies, Haze has been around for more than 30 years. Formed in 1978, Haze released their debut album in 1984 and has since released another two studio albums and as many as three live albums under that name (for the fourth studio album listed here they changed the band name to World Turtle and called the album Haze). Since the present album is the only one I have heard from the band, I cannot tell you if the songs featured here constitute the best of Haze, but it sure sounds like it! This is a surprisingly good live album with several great songs and only a couple of weaker moments. As it says in the small booklet, most of the material featured here was recorded in Sheffield on the 1st of June 2008 and the running order of the album is a correct representation of the actual set list of that show with only one song (Seven Stones) added that was not played that night. This is just how good live albums should be, i.e. representing the concert as it actually was performed (though I don't know how it actually sounded live). It's a good thing they added Seven Stones though, as it is a great song!

The set list features songs from all of the band's studio albums including the World Turtle album that is called Haze, as well as a few songs by Treebeard which is another band that feature members from Haze. In addition, there are a few (new?) songs that are not on any other album (not that I know of anyway). Without having heard any of the band's studio albums (nor World Turtle or Treebeard), I think it is fair to say that this live album gives a good overview of the long career of Haze and the members other musical projects.

The music featured here is an appealing mix of Psychedelic Prog and Prog Folk with touches of Symphonic/Neo Prog and Crossover. Pink Floyd is an obvious influence on Haze as they even end the show with a good but, in my opinion, unnecessary cover of Comfortably Numb, but the rest of the material is original. The line up features the bothers Paul and Chris McMahon on (primarily) guitars and keyboards respectively and who, if I'm correctly informed, are the founders and leaders of the band as well as drummer Paul Chisnell. These three people form the core of the band, but they also have some guest performers here in Ceri Ashton on flute, Greg Smith on bass and Rog Patterson on guitar (the latter only on Comfortably Numb). The flutes are particularly brilliant and give the music a lovely Camel-feel.

Overall, I find the second disc to be better than the first as some of the best songs are on the second disc and the least good songs are all on disc one. The first disc opens with a short Intro that adds little to the proceedings. Turn Around is rather raw and gritty song that at first made me worried about what I had bought. But the following two tracks Mirage and Over The River quickly diminished that worry; the former with its swirling synthesisers and heavy guitars and the latter with its excellent flute and piano. Another excellent song on the first disc is The Edge Of Heaven, this song originally appeared on the World Turtle album Haze. 4 Real is the first of the Treebeard songs, and though good it is not as good as the Treebeard songs featured on the second disc. There are however, as I said, also a couple of weaker numbers on the first disc. Another Country reminds me a bit of Asia with its catchy chorus and fanfare-like keyboards and Autumn is a rambling Blues rocker that I could have done without. Also Let Go is not very much to my liking.

As implied, the second disc is stronger and more coherent that the first. There is not one weak song to be found here! It opens with a short electric Folk instrumental called Hitchhiking that leads straight into the symphonic Ophelia. Dragonfly is a new song that was written during the rehearsals for the concert and it is a great song. Train and The Barrister & The Bargast are Treebeard songs and especially the latter is quite brilliant! A Firkin Of Mead is a lovely acoustic number that brings diversity and a chance to catch your breath between the onslaught of the rest.

It is funny that Haze apparently released a live album every ten years since 1988, all of them being anniversary albums; 10th anniversary, 20th anniversary and now this 30th anniversary one. During the between-songs-banter towards the end, they say to the audience 'see you in another ten years!'. So let us hope for a 40th anniversary live album in 2018, or even better a live DVD. On second thought, let us hope they do something sooner than that!

Judging from the present album, Haze is an underrated band that deserves much more attention.

Highly recommended!


---
Haze in that branch of the lake DVD recorded live 9th April 2010
In That Branch Of The Lake is the first concert video release by the British band Haze, filmed and recorded in Italy on the 9th of April 2010. The power trio that is Haze consists of brothers Chris and Paul McMahon and drummer Paul Chisnell. The career-spanning set list played here is similar to the one that resulted in the 30th Anniversary Shows double live album in 2008, but different enough to make it interesting. The oldest songs played here were written in the early 80's and the newest ones were written in the new millennium. Several of the songs were never featured on any of the band's three 80's studio albums (or on the two World Turtle albums that the two McMahon brothers recorded in the 90's).

There are aspects of the music of Haze that comes through better in live performance than on their studio albums and they clearly have fun on stage here. Unfortunately, however, the quality of this recording is not as high as that of the material itself. The sound is sadly not very good and the biggest problem with the recording is the weak drum sound. This creates a kind of "garage" feeling and maybe this could be called Garage Prog?! Haze is a great band and this is a very good performance and it clearly would have deserved the best of available recording techniques. The picture quality is not bad at all, but the film would probably have benefitted from having a few more camera angles to choose from. If you are able to look beyond these technical imperfections this is a fine product, but it cannot compete with the aforementioned 30th Anniversary Shows double live album recorded a couple of years earlier in the band's British homeland.

After four songs, the trio is joined on stage by Ceri Ashton. Her flute adds a whole new dimension to the music that is indeed very welcome (as it was on The 30th Anniversary Shows). If the band ever records another studio album, I really hope that they invite her (or someone else with her talents) to participate. The heavy presence of flute brings an appealing Prog Folk touch to both the new and the old songs. Dragonfly and The Last Battle are introduced as new songs and they do indeed raise my expectations for a new Haze studio album. If we disregard compilations, re-issues, live albums and the two World Turtle albums as well as other musical projects of the two McMahon brothers, it has been some 23 years since the release of the latest Haze studio album. Let's hope that we will see a new studio album in the near future.

All three of the core members provide lead vocals on different songs and together they create a distinctive sound. While Paul McMahon sticks to electric guitar and lead vocals throughout, Chris McMahon alternates between bass, guitar and keyboards (like Geddy Lee in Rush). They pull it off well, but I strongly believe that the trio that is Haze would have benefitted greatly from having more people (in addition to Ceri Ashton) backing them up in a live setting. The addition of a permanent bass player would have allowed Chris to concentrate on the keyboards and it would have created a fuller sound. The acoustic side of the band is not present.

The Italian organizer of the tour requested that they play Changes In Time. This heavy, rambling number is apparently a very old song that nonetheless escaped the band's previous official releases - and judging from this performance of it, for good reason! But they sure had a good time performing it. The small Italian audience is appreciative but very polite. Unlike the band's British fans, the Italians do not seem to be as familiar with the material.

Haze is a band that should have gotten much more recognition and if they did they surely could have made a much better DVD product in the end. The two McMahon brothers are clearly very good songwriters and performers and, as I said, I really hope that Haze will record a new studio album in the future.

While the double live CD 30th Anniversary Shows is a much better introduction to Haze, this DVD is primarily for those (like me) who have never gotten to see the band or for those who were there at this very show. Most of the best songs here are also present on that album and the DVD extras are not very exciting and include only a couple of picture galleries. Still, this is certainly a worthwhile addition to any Haze collection - but not the optimal place to start.


---
Haze in that branch of the lake DVD recorded live 9th April 2010
Like it's distant VHS antecedent, this second attempt to bring the Haze live experience to the comfort of your living room is another 'by a fan, for other fans' production. This time it's Italian tour promoter Daniele Castracane who's done the business, with a recording of the band's April 2010 show from Lecco on Lake Como.
The band - augmented for about half the set by Treebeard's Ceri Ashton on flute - is on top form. 'The Vice', in particular, is a blisteringly visceral performance and 'Seven Stones', with Ashton's contribution drawing it closer than usual to ye olde Cellar Tapes original, is really rather special. There are, encouragingly, enough new tracks to be well on the way to an album, with 'The Last Battle' being particularly strong.
While the filming is very good, though, sound quality leaves something to be desired, with the mid range rather 'boomy', smudging some of the subtleties - and Haze's music has always been about nuances. Likewise, it takes a long time for the level of Ashton's flute to blend in its supporting role, being much too loud early on and dominating the otherwise delicate 'Fallen Leaves'. All this results in a disc that will be enjoyed by fans - and I'm one myself - but still isn't the DVD we really want.
Oz Hardwick published in R2 Rock'n'Reel Vol 2 No 27 May/June 2011

---
LIVE REVIEWS


Treebeard, The Fishpond, Matlock Bath Derbyshire: 09/03/2000
Treebeard are a project by HAZE in acoustic mode, with the additional fine guitarist Chris Jellis, + Gordon Walker on a violin that was positively smoking on some songs! They delivered a beautifully clear sound in the small bar area of the venue. The 2 sets included their own material amongst ballads, sea-shanties, jigs & folk/rock songs with Haze flavouring. Chris McMahon was at home with acoustic guitar, accordion & mandolin, instead of electric bass & keyboards. Paul McMahon's vocals were spot on, and the band's obvious joy was infectious. In the 1st set HAZE highlights included favourites One Day, Fallen Leaves & Wilderness In Eden with spontaneous audience assistance on whale noises! The 2nd set saw the audience numbers noticeably increase. Anyone who have seen HAZE before will know their penchant for wearing silly hats with minds of their own; it was fun seeing the audience reaction, with smiles all round. Paul Chisnell gave a lively performance throughout, obviously enjoying not being hidden behind a set of drums; and on Wave he waved & got a few shy waves back! After a brief but loud farting noise from an amp we were treated to a superb cover of Strawbs: The Hangman & The Papist. Gordon Walker delivered some superb violin work & surpassed himself on The Devil Went Down To Georgia; the audience loved his mask for the Devil's part in the musical dual. The 2nd & final encore was Floyd's Comfortably Numb; Gordon, having taken the Devil on, now took on supreme-being Gilmore's guitar solo, with violin! Great gig. Check them out for a thoroughly entertaining night out!
Dave Kennedy (submitted to Wonrous Stories)


---

World Turtle - Whitchurch Festival 26/07/98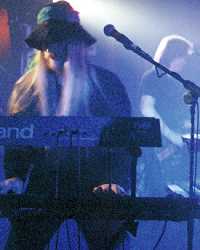 "World Turtle played next, again sadly under time constraints. This however, did not prevent them making an indelible impression on all those who saw them. The live Turtle experience is something quite unusual. Formed out of long standing prog band Haze, Chris and Paul McMahon, adopted the Turtle name and took to the studio. Most of the material played at Whitchurch was from their second album Wilderness of Eden.
The format is simple - Paul plays guitar and sings, while Chris jumps up and down like a jumping lunatic behind his keyboards, or runs round the stage like a running lunatic with his bass. The sound is augmented by samples provided by a rather nifty looking computer they have on stage, and are triggered by Chris (in his sample triggering lunatic mode). The result is a remarkable visual show, full of humour and unexpected moments.
Quite how Chris managed to keep playing when one of his mad dashes resulted in him losing grip and skidding along the stage on his behind nobody is too sure...but he did it. All this might sound a little extreme, if not a little inane, but there is no getting away from the fact the while this is going on they're playing some damn good prog. It wasn't a clown show or a spoof - even though the best way to describe the visuals is that they're a proggy Spinal Tap - many of the audience were waiting for a miniature Stonehenge to appear! At times frantic with hints of fusion, at times hypnotic and mesmerising, but more often than not creating a classic prog sounds without coming across as too derivative, World Turtle gave it their all.
Towards the end of the set, Paul (who up to this point was regarded as The Normal One on the grounds that he stayed in one place and didn't look like an eco-warrior) made use of the radio link between his guitar and the PA, and wandered off into the audience to play his guitar solos. It was nothing if not surreal, and great evidence that without losing musical validity, prog can be...... whisper it softly lest they hear......fun."
Tony Emmerson & Lisa Rupert (in Progression Summer 1998)


---

World Turtle - Whitchurch Festival 26/07/98
The band of the day for me were World Turtle. The McMahon brothers have a special chemistry on stage which more than makes up for the absence of a real drummer, and Chris's antic are always good fun to watch. Tonight's set consisted entirely of songs from the excellent 'Wilderness Of Eden' CD, an album which demonstrates the diversity of their material from the proggy 'Vertigo' to the anthemic 'One Day'. I could have listened to them all night. Another band who will be appearing at the Tut & Shive in Rotherham - 10th October.
Miles Bartaby (in Wondrous Stories Aug 1998)


---

Haze - 20th anniversary show - The Boardwalk 31/05/98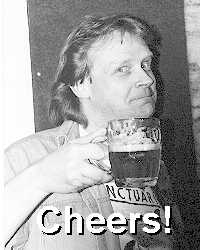 After a magical mystery tour of Sheffield's one way system, we arrived at the Boardwalk to hear guitars making tortured screams, as roadies did things to them, hopefully for soundcheck purposes, as over 170 people assembled in this small pub venue. There was a visitor from Italy Daniele Castracane he'd flown in specially from Milan to see the show, and Haze joked:"We told him it was a Genesis reunion". It was great to see guitarist/singer Paul McMahon & keys/bass Chris McMahon reunited with original Haze drummer Paul Chisnell, for a marathon session of their music in front of an enthusiastic audience. Starting with The Vice, Gabadon, For Whom, the romantic Fallen Leaves, Survive, The Load, Don't Leave Me Here/See Her Face and Shadows before an acoustic set opening with In The Universe. (A credit to the engineer, to get such a clear well balanced sound in a small venue). Haze have a mole connection; tonight was no exception, a poor soft-toy mole was raised up on string and then theatrically hanged, at the end of a brilliant cover of The Strawbs:Hangman and The Papist, with Chisnell on military percussion. (Don't worry Mr Mole is OK, he was in the dressing room signing photos afterwards - what a pro).
There was the excitement of the event being recorded, a sense of history being made in this party-like atmosphere enhanced by long-time fan and friend of the band Tim Stenton. He organised amusing antics throughout the gig, in collusion with the audience, including: pelting the band snowball like, with bundles of cotton wool. It is a testament to the band's 20 years gigging that they managed to keep playing throughout this bombardment, resplendent in their floppy hats; a highly amused Chris McMahon said:"It isn't Christmas yet you silly boggers!" A highlight was seeing Chris play the manic-keyboard masterpiece Dig Them Mushrooms, which saw the brothers trading Deep Purple power chords off Smoke On The Water and Burn. Next The Hum, a jaunty zany song (a nightime battle between some smelly moles, who wake the neighbourhood and are gassed!).
Then the menacing atmosphere of The Red Room, followed by The Ember, and very old song Seven Stones, including a rendition of Floyd's Comfortably Numb with Mountain concluding the set. A huge net of balloons was released, which were flipped about and then stomped on, sounding like firecrackers. After much hoarse cheering for more, Haze encored with The Night and Floyd's Brain Damage/Eclipse, with people singing along. They were called back for a second encore, playing The Exiles Song which which included the Om riff Steve Hillage, Don't Fear The Reaper Blue Oyster Cult, Layla Derek & The Dominoes, Ain't Talkin About Love Van Halen & Hendrix version of All Along The Watchtower - they did a solo coming out of this, with Led Zep's Stairway To Heaven (Chris tells me the chords to both songs are the same!). A two and a half hour set, so amazing I couldn't believe it was really happening at times; so euphoric and dreamlike. If you were there you'll know what I mean, if not, do yourself a favour and get the live CD of the night, contact Haze at 25 Fir St Sheffield S6 3TG
Dave Kennedy (in Wondrous Stories June 1998)


---

Haze/World Turtle Mini-festival, Hulland Ward, Derbyshire Sat 14/06/97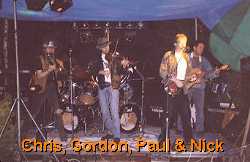 Nine miles from Derby a yellow sign declared 'HAZE Dig Them Mushrooms': we'd arrived, having no real idea what to expect. What we found was amazing: a rock concert held in a back-garden, complete with four barrels of beer and a barbecue! Pallets formed a stage; the gear and lighting rig being housed under tarpaulin. We had arrived late, due to work commitments missing an acoustic set with former Haze drummer/vocalist Paul Chisnell and a chap called Chris Jellis, followed by Paul Chisnell's band called 'Three Legged Cat'. Paul Chisnell hadn't played with the band for nine years and tonight performed on the two 'Haze' numbers: 'The Ember' and 'Fallen Leaves'. World Turtle songs included 'Wooden House', 'Let Go', 'Another Country' and 'One Day'. Chris McMahon was energetic with guitar strapped to his back as he played keyboards, and brother Paul with cordless guitar came out amongst the small audience of about forty friends and fans. Before playing some covers, Chris said they used to do this, to attract the attention of new audiences who had never heard of them before, to slowly ease them into their own material. Among the covers they played were the Rolling Stone's 'Brown Sugar', Pink Floyd's 'Comfortably Numb', which featured guest violinist and fellow CRS member Gordon Walker from Sheffield (who played four songs on the Wilderness Of Eden CD, but was playing live for the first time with the band). They also played 'Brain Damage' off 'Dark Side Of The Moon', plus 'Thank You' by Led Zeppelin and as we left, a jamming session involving several guitarist was in full swing! The sound quality was excellent, definitely a 'Mid-Summer's Night's Dream' wow! Special thanks to Tim who hosted and organized this one in a million event!
Stephanie Kennedy, Derby (an edited version appeared in Wondrous Stories)

---
World Turtle at the Heringthorpe Leisure Centre Rotherham 9/11/96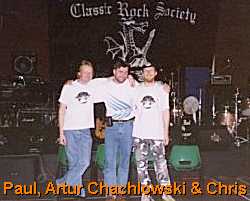 This was the CRS's first effort in quite some time to get some European bands across to play in England. Tonight featured two Swedish bands, Galleon and Ritual with local Sheffield band World Turtle opening. As we had expected from the low number of advance ticket sales, overall turnout was very low (about 100 people). Having said that, the crowd there on the night certainly made enough noise during all three bands' sets to make it seem like double the amount. World Turtle, as publicized, played a set comprising predominantly their older Haze material and as usual their humorous remarks and antics quickly won the crowd over. Best track of the set for me was 'Vertigo' one of their newer pieces due to be on their next CD. A great opening performance, which I am sure set the superb atmosphere that was present throughout the night.
Paul Allwood (first appeared in Wondrous Stories)


---
World Turtle at the Leopard Doncaster 2/11/96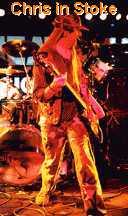 The ever versatile McMahon brothers played to a small but appreciative audience in this Doncaster pub. The music was, as per usual, excellent and they put on the quality filled show that you'd expect. They played Haze classics 'Ceiling's Coming Down' and 'Gabadon' as well as new material including the acoustic 'Wave' and the epic 'Vertigo'. In the second half they were joined by vocalist Freddie Satsuma, when they performed a track 'Sponsored By' from the Satsuma and Friends tape (which features both Chris & Paul McMahon) a cover of a Living Colour song and a great version of 'Comfortably Numb'. 'When Satsuma left the stage they performed 'Solsbury Hill' and a few more old classics before coming back for a second encore of Thunderclap Newman's 'Something In The Air'. A great gig and now the Haze CD 'C'est La Vie' has been reissued it's going on my Christmas list.
James R Turner (first appeared in Wondrous Stories)


---
World Turtle at the Brentford Red Lion 20/09/96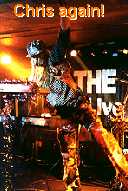 World Turtle are Paul and Chris McMahon. Paul provides lead vocals and guitar, while Chris provides bass, keyboards backing vocals and looks after the computer/drum machine. Paul looks like an accountant, solid as a rock, while Chris is a hippy. Not only that, but he is totally manic, moving around the stage like a loon. I don't think that anyone enjoys their music more than Chris. So, visually they are a very arresting band, add to that great music and you are on to a winner. Very dramatic and powerful, songs like 'The Ember' and 'Wolf' are fantastic. The only problem I can say is that they need a 'live' drummer to give them that OTT edge.
Kev Rowland (first appeared in Feedback)


---
Haze Dove & Rainbow, Sheffield 25th February 2007
In this small friendly real-ale city-centre pub, just like the one described in Haze song Stoat & Bottle, the two McMahon brothers, Chris (keys, bass, vocals) and Paul, (lead guitar and vocals), plus Paul Chisnell (drums, vocals) took the stage. They launched the first of two superb sets with their musically raunchy, riff-laden song The Vice, followed by other Haze classics including the romantic For Whom and the dreamy Fallen Leaves. A surprise treat was a storming progged-up version of Zep's No Quarter complete with keyboard and guitar improvisations plus great use of echo on the vocals. During this song, Paul McMahon nonchalantly wandered outside the pub, still playing as he strolled into the city square, much to the amazement of a few passers-by, before reappearing via another door. The second set contained air-keyboard moments aplenty with favourites like Survive and Dig Them Mushrooms where Chris McMahon made those keys smoke! Another delight was The Hum, a humorous story about moles having a turf war and keeping folk awake at night! From the gorgeously haunting song Survive, the words 'It's been a while since we last met, it's good to see an old friend', have never felt so apt. Oh yes, Haze are back and they rock! chrisgabadon.demonweb.co.uk/gigs, myspace.com/hazeuk.
Dave Kennedy published in Classic Rock Society Magazine issue 160 May/June 2007

---
Haze The Peel 18th September 2010 (from Classic Rock Magazine)
It's a flawless welcome on stage for Haze as the ballardry and swaying mood change of For Whom follows on from the lively opener Turn Around. Engaging and varied in their delivery throughout, the band have swollen to a quartet now, with flute player Ceri Ashton joining bassist/keyboardsist Chris McMahon, his guitarist/vocalst older brother (sic) Paul and drummer Paul Chisnell. Taking her place on stage during third song Dragonfly, she stays for the majority of the set, leaving near the end during the jazzy and spasmodic The Load, returning to sing backing vocals during the last song of the main set Stone House. The folky tinge painted by Ashton's flute illuminates the likes of The Barrister And The Bargast.
Arriving in a battered van that has seen better days, they may look like old hippies - McMahon jnr's bare freet visible underneath his flared jeans - but are fascinating to watch on stage. Chris switches between bass and keyboards with effortless dexterity, as Chisnell takes over on vocals during Fallen Leaves, showing further adeptness and musical virtuosity.
Elsewhere, from buzzing instrumental Dig Them Mushrooms to newer composition The Last Battle (described in the introduction as "new wave of medieval folk prog rock", which pretty much covers all the bases), through to an encore of of the popular and riff packed The Vice, each song is greeted with well deserved enthusiastic cheers. Highlight of the evening is undoubtedly the achingly beautiful The Edge Of Heaven.
It beggars belief why they never quite got the breaks earlier on in their career, and it's a real shame because Haze should have been as popular if not more so than their counterparts during the early 80s; their neo-prog influence should have enjoyed far more success. Yet to see this band still tread the boards after over 30 years - albeit as sporadically as they do nowadays - should make anyone's musical journey that little bit more complete.
Richard Thompson

---
Interview for MusicReviews by Andreas Shiffmann.
The interview on http://wwmusikreviews.de is in German, so here it is in English!
Andreas: Tell me what took it so long for you to come up with new music, please.

Paul: Haze had been quite inactive for many years as we were getting plenty of work with Treebeard, our folk/rock covers band. We always loved doing Haze gigs, but we wanted to keep Haze special and we all have full time jobs, so the incessant touring we used to do was not possible. We were still writing songs, but felt no pressure to record or release them. We realized in 2011 that we now had enough songs to fill a CD, so we got on with it!

Chris: After Haze broke up in 1988, Paul & I played together in World Turtle from 1988-1998 & released 2 CDs 'Haze' & Wilderness of Eden', I also played in Von Daniken & release 2 CDs with them 'New Worlds' & 'Transient'. After we reformed Haze in 1998 we were mainly busy with Treebeard, who released 2 CDs 'Heavy Wood' & 'Reel Ale'. I also played with American heavy rock band Strogheart from 1998-2007, folk rock band Silverwheel from 2005-2009, and singer guitarist Paul Pearson 2004-present. Paul & I also formed The Outlandish Knights in 2006 playing rock influenced traditional music, so although we started writing some new material for Haze, we were really too busy with other projects.

Andreas: Why is it that Haze have such a low profile despite your long existence?

Paul: Haze always played a wide variety of music - I was trying to write good songs and didn't care at all what genre they fit into. Because of this, we were always seen as not quite a 'proper' prog band. We didn't see each other at all between 1988 and 1998 when we reformed for the 20th anniversary gig, and although we would have liked to have played more often, we had jobs &
children and couldn't fit in any more gigs. Also at this time, Treebeard, who included the three original members of Haze, were very busy with folk & beer festivals, and even ended up playing Earl's Court in London for the Great British Beer festival.

Andreas: Is the story of the title track transferable into modern times?

Paul: Yes, it's pretty much how I feel now. It's a song from the point of view of one of King Athur's knights who has spent his whole life fighting for his country who knows that he is getting old and past his best and is beginning to realise that sooner or later, he will probably be killed in battle. The song is a request to his comrades to bring his body home and bury him in the place he grew up.

Andreas: "Grey To Blue" and "Edge Of Heaven" seem like simple love songs; is there more behind them?

Paul: Grey to Blue was Paul Chisnell's song. He always said that you don't have to complicate things, and if you love someone - say so.

The Edge of Heaven was my song and is much darker. At the time of writing, I was living in a flat on my own, Haze had just split up and it felt as if everything I had put my effort into had fallen apart. It's kind of a despairing love song - about getting to the edge of something really good, but never quite being allowed in.

Andreas: In "Over The River", it seems like the protagonist speaks about a person sorely missed; please explain a bit.

Paul: Verse one was about my first wife's grandmother, who died at a ripe old age. Basically, she just slipped away peacefully and softly in a nursing home. It is about gently coming to the end of life after a long and mostly happy time on earth.

Verse two is about a miscarriage which my first wife and I went through in 2000. We had already had a scan and I remember seeing the baby's heart beating strongly. Two weeks later, we went for another scan and were told that the heartbeat had stopped. How do you deal with that? I just wanted to express that contrast between a long life coming to a gentle end and a life that never really got started.

Verse three is thinking about my own mortality and is sort of a promise to my children that I will be there for them as much as I can and will try to give them whatever they need to get them through life.

Andreas: Do "Is That It?" and "For Real" depict a person struggling with internal and external changes?

Paul: Chris's songs.

Chris: For Real was based on the disappearance of Richey Edwards of the Manic Street Preachers. His car was found abandoned in the viewing area by the Severn Estuary Road Bridge, a popular suicide spot, as the estuary flowed so fast that no body would ever be found. Many of his fans believed that he staged his disappearance simply to get away & start a new life. Unlikely, but an appealing thought. The line 'of my guitar they'll find no trace' was based on the idea of leaving a clue that only someone who knew you well would notice & realise what you had done.

'Is That It?' is quite a cynical song as I was in a relationship that was just ending as everyone around me was getting married, but seemingly losing interest in all the things that I thought were worth doing, ie going out and playing music, and I was questioning how much I'd have to give up to get what I wanted. The answer is of course, go out with someone who also wants to go out playing music!

Andreas: In "Dragon Fly", you are toying with rather oriental melodies; is there a specific reason for this?

Paul: No. The guitar pattern came into my head ages ago and I took ages deciding what to do with it. We had done a song called Mirage back in 1979, which used the Phrygian mode and I thought that it would be appropriate to do something else eastern sounding.

Chris: To me it's got shades of 'Set The Controls For The Heart Of The Sun', but I think the Eastern sound suits the echoes of Pagan sacrifice in the lyrics.

Andreas: How does "Classic Rock Bar" fit into the context of the other tracks?

Chris: It probably doesn't! I was a regular at the Classic Rock Bar in Sheffield for the 3 years that it was open & it became a real meeting place and focal point for musicians and bikers, so we were all devastated when it was sold & knocked down, none more so than the Landlord, Sass, who died of complications from misusing medication due to the stress of fighting to keep, and finally losing, the bar. I wrote the song to perform solo, which I did for a number of years, but when we came to record the Haze CD, I really wanted to do a band version as a tribute to Sass and everyone at the Classic Rock Bar.

Andreas: "Long, Long Gone" to me sounds like a person embittered by the current state of things. Am I mistaken here?

Paul: Absolutely not. maybe disappointed rather than embittered?

Chris: Conceptually this seems to fit in with a long line of Paul's songs; The Night, The Vice, The Ember, Fading Away, Epitaph, Kickback, all of which deal with a sense of disillusionment with life in general & the music business in particular!

Andreas: Stories like that of "The Barrister And The Bargast" an "Train": Do you invent them yourselves, or have you adapted them from anywhere?

Paul: I work in an old office in Paradise Square in central Sheffield. There is a legend about a big black dog - a Bargast, which chased a lame man across the square (or field as it used to be back then). The square is now full of surveyors, solicitors and barristers, so I just put together the old legend and the present day. The actual story is completely made up.

Chris: Train is based on a story I read somewhere & I remember recounting it to my girlfriend, but not remembering the story very well & making up the details & telling it in my own words, when I realised, actually this would make a good song! The Train is metaphorical, in the same way as it is used in blues & gospel music as a metaphor for the journey to heaven. The moral is very much as Lennon said 'Life is what happens to you while you're busy making other plans'. You think the goal is catching the train, but actually that's death & the important bit is what you do before then.

Andreas: Tell me why "Balder And The Mistletoe" is an instrumental.

Paul: Because we didn't put any words to it!

Chris: LOL! We got the tune from a Canadian friend of Ceri's, who claims it is a traditional tune from Greenland. To be honest I don't think it occurred to us to put words to it, we felt we'd taken enough liberties with a traditional tune by putting prog-rock synth & guitar all over it!
Actually the story of Balder & The Mistletoe would probably make a good song, a Norse legend of deceit & betrayal with some overtones of the Christian story, with Balder, the son of god (Odin) betrayed and killed by one close to him (his brother in the Norse legend), encouraged by Loci/The Devil. Maybe on the next album?

Andreas: Where do you go from here? Is there still anything you want to reach with the band, and I guess this was not your "last battle", right?

Paul: If songs occur to me, I will write them. We now have my 14 year old son drumming with us. He is a great drummer, but he needs to pass his exams before he is ready to do a lot of gigs, and by then, he may not want to be seen with his old dad & uncle. I can't quite imagine stopping altogether, but nor can I imagine going out on the road at any great length - unless it is after I retire!

Chris: My original idea was that this was to be Haze's Last Battle. I knew that Paul Chisnell (drummer) had been suffering with tinnitus for some time and was contemplating stopping playing, so I wanted to record one final album with him, do a farewell tour, then move on & do something new. Then, just as I'd started booking tour dates for the album Paul (Chisnell) announced that he couldn't carry on. I didn't want to cancel any dates, so the obvious answer was to carry on with Paul (McMahon's) son Danny on drums. Danny has been playing since he was 7 & knows a lot of our material, so was an obvious choice to play with us. And although as Paul says, Dan is still young, having him in the band has given us a real impetus to carry on & make more new Haze music!

---
| | | | | |
| --- | --- | --- | --- | --- |
| | | | | |
| | | News | Gigs | Merchandise |
---